In early 2020, Hudson Space Systems was looking for a partner who could manufacture a pressure vessel that could endure extremely high pressures. So, they turned to the ASME membership directory.
That's where they found Rexarc International.
Trust, but verify
Hudson Space Systems is a startup that provides a full suite of products and services to companies and academic units to facilitate research in microgravity – the very edge of space. The company was growing, expanding to the pharmaceutical market. It developed a new launch engine and system that needed to be tested.
As they began to build out their verification system, Hudson searched for a partner to build the fuel tank. Hudson Space Systems required a relatively small volume stainless steel pressure vessel that could withstand extremely high pressures.
"It's difficult to source," said Nathan Tahbaz, CEO of Hudson Space Systems.
The size and pressure requirements are not easy for many pressure vessel fabricators to produce, and Hudson wasn't seeking a large quantity of tanks.
However, Rexarc recognized an opportunity to go beyond being a vendor for Hudson and to build a long-term partnership.
Building a partnership
A couple of things about that early conversation piqued Sales Manager Greg Rush's interest.
First, the Hudson Space Systems team was incredibly humble in their approach, realizing that their tank could be a challenge for a fabrication shop used to mass production. In fact, they needed one relatively small stainless steel pressure vessel for testing a new launch engine. However, that one pressure vessel was vital to their work.
Second, Hudson sought a partner instead of a vendor. They wanted to work with a company who could stand with them.
"We heard what they were saying and their work was exciting to us," said Rush. "They are building the next generation of suborbital rockets for research. It is important work."
That first conversation happened in May 2020.
Interruptions
Like most other businesses, Hudson was not immune to the ups-and-downs of every aspect of life over the last two years.
Shifting priorities and funding streams required Hudson to change course slightly. Their entire team went remote, scattering them from coast-to-coast and making it difficult to collaborate on the new launch engine.
Hudson and Rexarc could have put the conversation on hold as well. But when you find a solid partner, you don't let go of that conversation.
"One of the things that ensures we can deliver on our quality promise is by building relationships with our customers. We strive to be more than a vendor," said Rush.
Building strong partnerships does not happen overnight. Most don't get interrupted by a global pandemic, either. When a fabricator like Rexarc takes time to understand and internalize customer goals and needs, something special happens.
"They even did additional due diligence and research to ensure that they could meet some pretty obscure aerospace requirements," said Tahbaz.
Rexarc previously built pressure vessels for rocket propulsion and understood most of Hudson's needs. The project pause provided an opportunity to check updates to requirements and ensure Rexarc was ready to deliver on all of them when Hudson Space Systems was ready to place the order.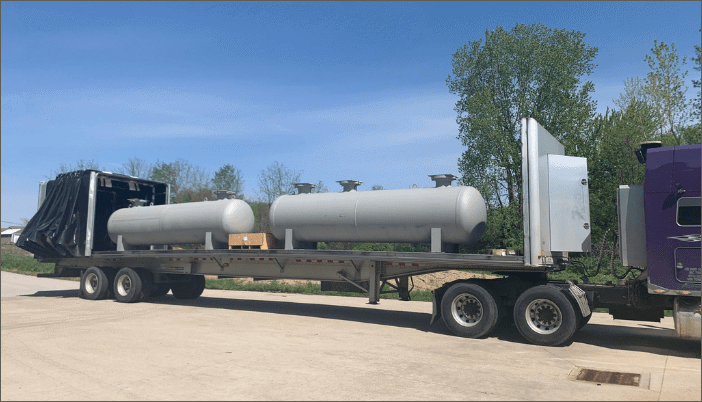 Success
Rexarc delivered the tank to Hudson in late 2021.
Tahbaz noted that they would recommend working with Rexarc. He noted that the Rexarc team was helpful, knowledgeable, and made sure Hudson was informed at each step.
"They even made sure we knew the vessel was on its way and the target delivery date, which was crucial for our team," said Tahbaz. "Everyone was super helpful."
Rexarc will be ready for Hudson's next order.
"We have been around almost a century and would like to see startups like Hudson Space Systems grow a legacy like that," said Rob Moyer, president of Rexarc.
Moyer, himself the third-generation to lead Rexarc operations, noted Rexarc's support for its partners in their early stages.
"We believe in them and in their team and will work to help them succeed."
About Rexarc International
Located in West Aledxandria, Ohio, Rexarc has generations of steel tank excellence. The company custom fabricates ASME-coded and non-coded pressure vessels for a variety of industries.
Summary – Hudson Space Systems and Rexarc spent nearly 18 months building their relationship. Rexarc was ready when Hudson placed its custom pressure vessel order, which Rexarc delivered in late 2021. That time was not a waste, it was all in the name of building a partnership.