Rexarc's commitment to working with customers on their projects has spearheaded the company's ability to redefine industries since 1924. Our continuous evolution has taught us what strategies give our customers the support and information they need throughout the project lifecycle for every custom pressure vessel we build. We've transformed these strategies into our proven process for ensuring your projects get the results you need.
What is Rexarc's proven process?
Rexarc developed our current processes and systems based off the Entrepreneur Operating System (EOS), a collection of business management strategies to help small businesses grow and thrive by tackling six themes: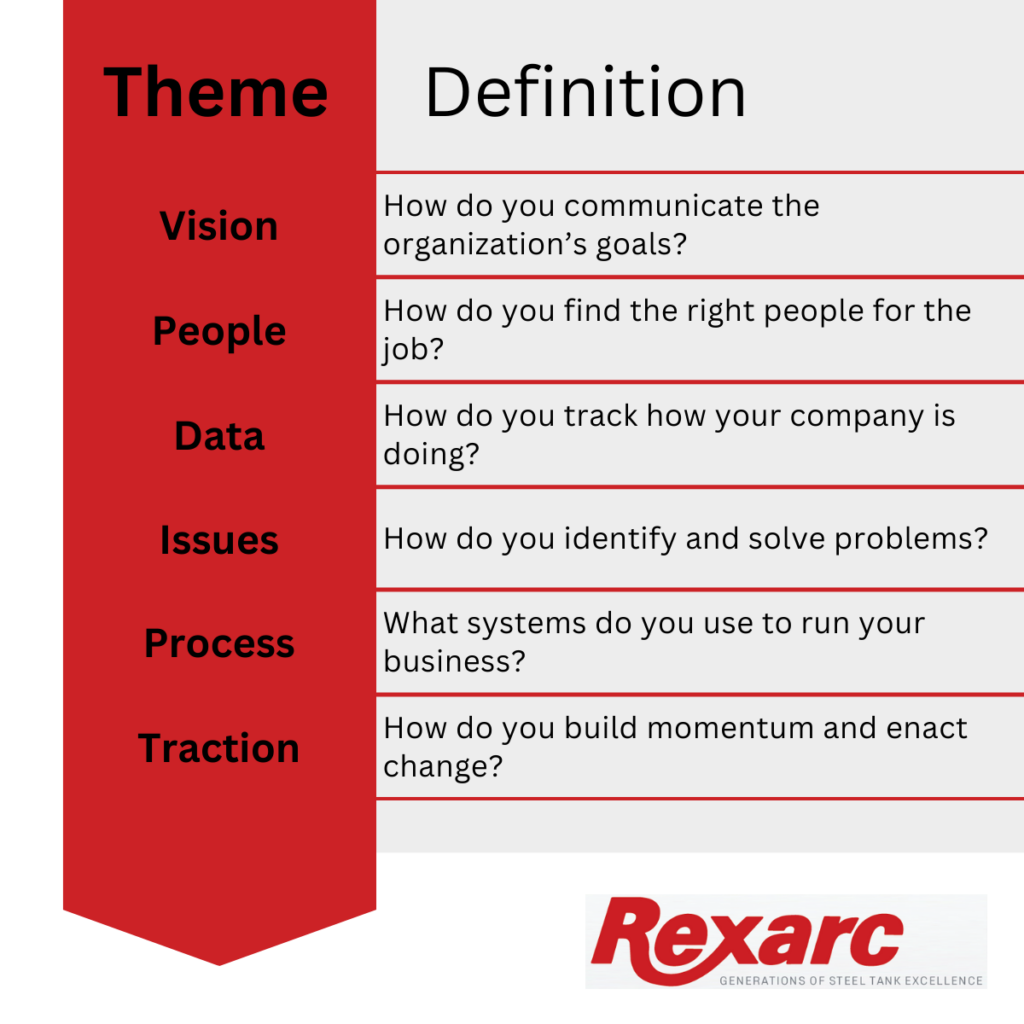 Working through these six themes has helped Rexarc have organized, specific, and structured goals, improved communication throughout the organization, and increased management efficiency.
How Rexarc has applied the Entrepreneur Operating System
We've identified recurring issues, tracked our customer's satisfaction, and talked with people across the entire company and throughout industry to create our own system for ensuring project success – from before a project starts to its conclusion. Each pressure vessel at Rexarc goes through our 8-step system, starting with the Alignment stage:
1.      Alignment
During this stage, Rexarc evaluates whether we're able to meet and exceed the customer's requirements based on our current facilities and availability.
2.      Project pricing
Project pricing is split into budgetary and detailed estimates. We come up with a budgetary estimate for the customer to get a sense of how much their project will cost from start to finish. Once the purchase decision date is within 30 days, we provide a more detailed estimate as a formal quote.
We've learned that keeping the formal quotes within 30 days of the purchase date gives the customer a better estimate, since the project cost will depend in part on the supply chain. External factors sometimes increase or decrease the cost of getting the materials we need to complete the project.
3.      Design approval
For the next step, we work with the customer to finalize and approve the vessel designs, check that the vessel will meet their needs, and set expectations for communicating updates. We also reach out to third party authorized inspectors to ensure the vessel designs meet the required standards for how they're planned to be used.
4.      Production kick-off
This step is key to having a smooth production process. The sales, engineering, and operations teams get together to make sure everyone is on the same page and is aware of who's responsible for what. We check material acquisition lead times one last time, finalize the production schedule, and are ready to get started building the vessel.
5.      In production
During production, we get the necessary materials purchased and delivered, and organize the distribution of each individual task needed to get the vessel built. Our operations team keeps a careful eye on every step of the vessel's fabrication so that any possible issues are taken care of quickly and efficiently. The customer is kept up to date with as much detail as they like following the guidelines agreed on during the design approval stage.
6.      Code compliance verification
We check that materials are properly labeled, welds and machining are within ASME standards, and that the vessel components are aligned within the right tolerance. This is where our expertise with ASME standards shines.
7.      Final prep and quality review
The vessel is primed, painted, and any other services the project requires are added like skidding, adding pipes, and any instrumentation. Once complete, we do one last quality review to make sure the vessels we ship to our customers are exactly what they are expecting to receive.
8.      Customer review
We finish the project lifecycle after we talk with the customer about how we met their expectations, and areas we can continue improving – whether it's with the vessel fabrication itself or our systems and communication. We want to be a partner to our customers by giving them the advantages our expertise provides, so this step is critical to meeting our own company goals.
Learn more about Rexarc
We've got a long history of applying our knowledge and experience to evolve our business and make our customers happy. To learn more about our story, click here. If you have any questions or would like to learn more about what we do, feel free to reach out to us here.