The pressure vessels designed and fabricated to ASME standards are widely used across industries. These pressure vessels stand out due to their fabrication excellence and safety. Today, you can find several manufacturers specializing in ASME pressure vessel fabrication in US. Rexarc stands tall among them. Having said that, it is quite obvious to think what makes Rexarc stand out and how it differs from its competitors. The post guides you to through Rexarc, its engineering expertise, and years of experience.
Rexarc – Proudly Serving Customers Since 1924
Not many businesses can stand the test of time – nearly a full century actually – or evolve several times over. Rexarc, located in West Alexandria, Ohio, has done just that. What started out as the Sight Feed Generator Co. in the early 20th Century is now an international manufacturing company, globally respected for its generations of steel tank excellence.
Rob Moyer, the fourth generation of his family to lead the company, recalls Rexarc made and sold lots of things. "We did everything from car washes to welding electrodes," said Moyer. "From the start, Rexarc made acetylene generators so that custom steel tank manufacturing runs deep with us."
The heritage of innovation and passion for quality and safety is carrying the company beyond its roots.
Rexarc – A Tradition Steeped in Excellence
Local inventor Will Swift inserted a Pyrex-branded glass viewport, able to withstand heat and pressure, into an acetylene carbide hopper so the user could see how much fuel was left for the job. Those sight-feed generators were used as floodlights and flare-lights, an application which made it a necessity in war time. The company was called upon to supply the Allied efforts in World War II and production boomed. It moved into two former tobacco barns with quick access to a rail line to meet the ever-increasing demand.
But the wartime boom quickly evaporated and the company was challenged to identify new avenues of growth. Soon, they started developing and building larger, stationery acetylene generators for use within pipelines of industrial manufacturing facilities. Moyer's great-grandfather, Carl Smith, was a very entrepreneurial salesman. He even owned a grocery store for several years. In 1924, Smith partnered with Swift to operate the Sight Feed Generator Company.
Over the years, the company added innovations in safety, acetylene purification, and in simplifying pre-engineered gas distribution systems. The company leveraged their industry knowledge with the skills of their team at every turn, while introducing the next generation to their heritage of steel tank excellence.
In the 1960s, the company became known as Rexarc, meaning "King of the Arc" and symbolizing its excellence in welding electrodes and other industrial products. And over the next half-century Rexarc became synonymous with acetylene generation plants. Many industries used them, and they are still deployed around the world. In fact, Rexarc remains a leading supplier of acetylene generation plants globally. Their systems are deployed in more than 80 countries, including Turkey, Trinidad, Australia, Honduras, and more.
Steel tanks that withstand high pressures and varied operating conditions are necessary for those generating plants to operate. Rexarc's reputation in this area is strong. Building on that reputation and expertise, the company added ASME-coded and non-coded pressure vessels to its product offerings.
"Innovation drove us to other fields because we continually saw ways to improve and developed a path to get there if it didn't exist," said Moyer.
Today, the company is still capitalizing on that spirit and shifting to meet marketplace needs.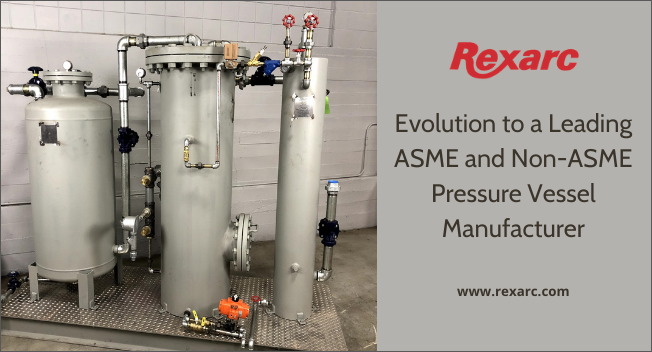 Evolution to a Leading ASME and Non-ASME Pressure Vessel Manufacturer
While an average person may not readily recognize a pressure vessel, they are crucial to our daily lives. On a cold day, many people could not heat their home without a pressure vessel. Pressure vessels deliver measured oxygen, helping the sick breathe easier. Many research-and-development labs invent products that make daily life easier or more beautiful or healthier require pressure vessels to safely blend chemicals in correct proportion.
Having been in the steel tank business for generations, Rexarc saw the opportunity to once again leverage its generations of steel tank excellence by custom-fabricating pressure vessels.
"As a company, we have a history of leveraging our core competencies to remain at the forefront, to deploy our extremely talented and dedicated team to address needs in adjacent marketplaces," said Moyer. "With some process adjustments and adding some state-of-the-art equipment to our facility, we're able to add custom pressure vessel manufacturing."
The team knew a key to success in this industry meant pursuing the rigorous ASME certification, that global standard. Undaunted, employees embraced the new opportunities.
Team members engaged in the process, working to adopt new practices and procedures, updating equipment and materials. In addition to American Welding Society (AWS) certifications, Rexarc welders earned their ASME certifications.
"ASME is a quality guide, so its built into every process," said Rexarc Chief Operating Officer Gretchen Jones.
Earning certification required adding new techniques, processes and equipment. Asking a 100-year-old company to make major changes isn't easy, but Jones said the team did so with energy, pride in their heritage and an eye toward that bright future.
"Without a team willing to do what it takes, it doesn't happen," said Jones.
Equipment was added to facilitate the certification process also. A plasma cutter, two plate rollers, a four-ton overhead crane were added to the manufacturing floor. MIG, TIG and plasma welding capabilities and equipment were introduced. And the facility was outfitted with a new piping system for gases. While the equipment makes the team's work easier, it also requires a commitment to training. According to Jones, a driving force for all of that effort was being able to serve customers with excellence.
"This investment created a lot of clarity on our future direction, especially for our employees," said Moyer. "This investment demonstrates our desire to be competitive. It allows our employees and our customers to see and feel our support."
Innovative Heritage
Many times, the purchaser of a pressure vessel must work with several vendors to get the exact product needed. With special customization offerings such as skidding, piping, instrumentation, coating, and more, Rexarc eliminates the need for multiple vendors and reduces the fabrication timeline. That means Rexarc also can deliver on time for each client.
In addition to tank customizations, vessels have different functionality, they don't just hold materials. Because of the company's history working with different kinds of manufacturing plants around the world, Rexarc learned about industry-specific functional needs for pressure vessels.
Rexarc is able to customize any tank to meet functional requirements. Their own work on purification of ammonia by-products into safer, less volatile compounds led to development of their purifiers that remove or reduce contaminants. Scrubbers help clean residue from the inside of the tank. And the original innovation – the sight-feed generator – keeps inspiring Rexarc with abilities to add instrumentation that allows the user to continuously monitor the performance and life of the pressure vessel.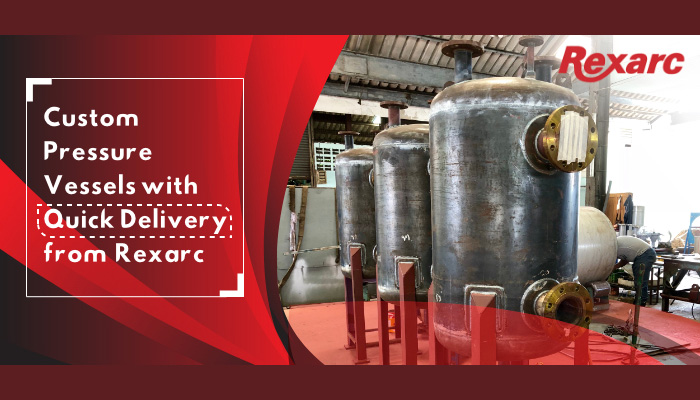 Value to the Customer
In the end, Rexarc uses its considerable heritage of innovation and leverages its generations of steel tank excellence to deliver value to its customers. The processes, the equipment, and the learning are all done because the Rexarc team is engaged and focused on delivering for customers.
"The move to pressure vessels is a natural progression in our history," said Moyer. "This allows us to use our experience to be viable in the marketplace, to fulfill our drive to be competitive."
Indeed, Rexarc has a very bright future.